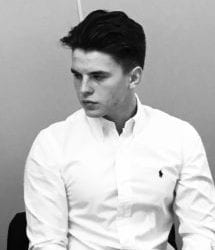 Can you tell us about yourself?
I am born and bred in Lewisham, South-East London, but come from an Irish family, so hold Irish nationality. I am a big football fan and have a season ticket for West Ham United.
What stage of your studies are you at? How are you enjoying them?
I am about to begin my penultimate year in Geography at Durham University. I am looking forward to having greater autonomy over what I can study this year, as well as learning more about Economic Geography, a topic in which I achieved a first-class score of 79 in my end of year examinations.
What do you want to do after you finish your degree?
Enter the financial sector. I want to work for a company that aligns with my high ambitions, and which will give me the opportunity to realise my goals.
How did you go from studying geography to being interested in finance?
During my A-levels, I completed an Extended Project Qualification (5,000-word essay) on 'Does the geography of Russia enhance or restrict its economic development?'. This was the first time I was truly exposed to Economics and realised I was interested in the topic. Ever since completing the project I have looked to expand on my economic knowledge, which led to me becoming interested in Financial markets, a topic I was lucky to learn more about during my Internship with Seven Investment Management.
You mentioned that you want to set up Durham University's first genuinely student-run investment fund. Can you tell us some more about that?
I've been building my financial knowledge in my spare time, by enrolling in an online course about Financial Markets, run by Yale University. I hope to use what I've learned to manage (hopefully successfully), a virtual investment fund in my penultimate year at university, then build on this to realise my goal of setting up Durham University's first-ever student-run investment fund.
How would your friends describe you?
Outgoing, personable and hard-working.
Would you describe yourself as driven?
Yes, exceptionally so. I try to succeed in everything I do, whether academic, sporting, or professional.
Who inspires you?
My dad for his bravery. He left his family and everything he knew in Dublin behind him, to make it in London.
If you could be endowed with a talent that you don't have, what would it be?
Except for time-travel, I would like to have been artistic. I am someone who is interested in the history of art, but does not have any artistic skill.
What's the most boring evening you've ever spent?
Revising for exams!
Who's the most interesting person you've ever met?
Only a brief encounter, but a man I met at a Sikh temple whilst travelling through India. He spoke very eloquently about the topics of religion, people and race.
If you could be a figure from history, who would it be?
</>Winston Churchill. He lived a very colourful life and did everything from being a butterfly enthusiast to leading Britain to victory in WW2.
If you had to be stuck on a desert island with a politician or political leader, who would it be, and why?
Barack Obama. I know that I could learn a lot from talking to him as well as him being very easy to get along with.
Is there an issue that you think defines our time?
Climate change, no bigger issue has ever collectively faced our society.
If you were Prime Minister, what would be the first thing you'd do?
Implement measures to avert a climate crisis.
What do you like about Durham as a city? Is there anything you dislike?
It is a very picturesque city and so great to be at university there, but far too small for me. I can definitely see myself only living in big cities after I graduate.
Can you tell us something we probably don't know about the subject you're studying?
Geography is actually split into two separate disciplines. Firstly, Physical Geography focuses on the natural world and then Human Geography which is the study of the social world.
What would you say is your best quality?
Personability.
Can you tell us a fascinating fact about geography?
Whilst researching for my extended project, I found out that Russia has a bigger surface area than Pluto!
What is your disability?
Dyslexia.
How long have you known about your disability?
I was diagnosed at the age of 3 with the condition.
Did you receive adjustments when you were in education? If so, did you feel they were effective and adequate?
Due to the condition being spotted so early I was able to attend a specialist Dyslexic school between the ages of 6-9. This allowed me to achieve academic success by the time I started doing public exams.
Would you say your disability impacted the accessibility of higher education?
I was lucky that I never felt barred from higher education due to my condition. But I definitely felt as if I was labelled as never being able to attend the best institutions or do the most academically challenging courses because of it.
What, if anything, do you find the most daunting part of the application process for jobs or internships?
Online assessments, as I take 25% extra time for all my exams. But I have not done any online assessments yet where I have had extra time. This means I am very time-pressured whilst doing these assessments and am unable to complete them to the best of my abilities.
Can you tell us about any internship you've done? Highs? Lows?
I was lucky enough to intern at Seven Investment Management before starting university. It was one of the most rewarding experiences I have ever had and cemented in my mind that finance was a field I wanted to pursue after university.
What's your dream job?
A job which has no boundaries to my success.
Have you ever lived outside the UK? If so, how did your experience as a disabled person compare?
I worked as a chalet host in France during my gap year, and as a dyslexic person, I was initially slower than some of my peers at completing tasks. But through hard work and determination, I was able to become more effective at completing tasks and so overcame the constraints of my dyslexia in that setting.
How does your disability impact your day-to-day life?
I always have to be incredibly organised so that I can manage my dyslexia effectively to fulfil tasks and get the most out of my days.
Do you think society's attitude to disability is changing?
Definitely, I think our society is working towards being more accepting of all disabilities, especially in the workplace.
What are the greatest positives of your disability?
Dyslexia allows me to approach problems in a different way to others. This means I can provide innovative and unique solutions to problems which my peers cannot.