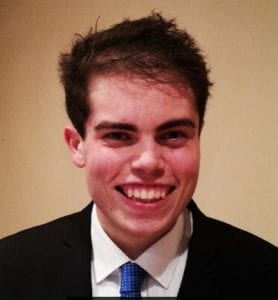 I'm an English student at King's College London, currently on a winter vacation scheme at Hogan Lovells. I also have multiple disabilities – Autism Spectrum Disorder, and Dyspraxia. So, how did I manage to succeed against the odds; to stand out from the rest of the 2,000 applications made for the scheme, and to secure one of only 15 vac scheme places? Well, the support I received from EmployAbility no doubt helped.
Over the last two years, I've used EmployAbility to make applications – receiving specialist help and advice along the way, which no doubt helped me when applying to the law firms this year – and to learn more about the kind of careers available to me.
I also attended two 'EmployAbility in Law' events, hosted by Reed Smith and Herbert Smith Freehills respectively, and attended by representatives from the Magic Circle firm Clifford Chance, alongside international powerhouse Baker & McKenzie, Mayer Brown, Charles Russell Speechlys and Olswang. I was able to speak to representatives from each firm, learning more about the reasonable adjustments on offer at firms and about firms' legal requirements. I also found learning about the culture of each firm, and their attitudes to disability, just as important.
Before attending the Law events, my understanding of the firms was based upon second-hand assumptions from friends and family – and when it came to disability, it'd be a struggle to call it positive. I was lead to believe that firms simply didn't care about disability – that I wouldn't be able to get anywhere in the city unless I concealed them, and that if I was 'found out', they'd quickly find a way to get rid of me. But that simply couldn't be further from the truth.
Every firm I have spoken to has been totally understanding of the benefits people with disabilities bring to the table – acknowledging that diversity is an important part of business, and that if people with disabilities are being ignored, that's an enormous amount of potential talent that is going to waste as a result of an overly-narrow talent pool.
With the knowledge, experience, confidence and connections I gained from EmployAbility's events, it became a lot easier for me to start forming a mental image of working for a top law firm – whether in the Magic Circle or for another top international firm. Once this goal felt realistic, it became much easier to pluck up the energy to start my applications.
I applied to vacation schemes at Allen & Overy, Norton Rose Fulbright and Hogan Lovells; I was totally open about my autism in each and every application, and actually used the opportunity to speak about it positively. While I also spoke about the difficulties my disabilities bring me, I was sure to focus upon how I had identified these weaknesses and taken steps to mitigate them.
In the end, I was invited to the assessment centres at all three firms, and ultimately received an offer from Hogan Lovells. I've really enjoyed the experience so far, in particular exercises like presentations, which have allowed me to get out of my comfort zone and challenge my weaknesses.
The firm has been greatly understanding and accommodating, and next week I'm meeting with Hogan Lovells' diversity manager to discuss how I can get involved with disability issues at work – because I recognise that, having reached this point, I need to help others in my position reach it too. Just like EmployAbility helped me to secure this vacation scheme – and hopefully a training contract too! I'd love to keep in touch with them and help out further in the future.
At EmployAbility we work with disabled university students and graduates to ease the transition from education into employment. To take advantage of these opportunities, the first step is to register with us. You can also contact us with any specific queries.