EmployAbility was delighted to hold the second J.P. Morgan Insight day on 22nd September. Aimed at providing talented disabled students and graduates with the opportunity to meet J.P. Morgan employees from across the firm, it was an essential event for anyone wanting to pursue a career in Banking. Last year's event was a huge success with attendees gaining a wealth of invaluable information, many of them went on to apply to the fantastic opportunities offered by J.P. Morgan.
Over 40 students attended from all academic disciplines and were welcomed to the event by Tab Ahmad, Managing Director of EmployAbility and Berthe Latreille, Managing Director of JP Morgan's Investment Banking division. The event kicked off with an icebreaker exercise to help attendees make the most of the day and this was followed by a very informative session introducing investment banking and JP Morgan by John Hobson, Executive Director of Finance.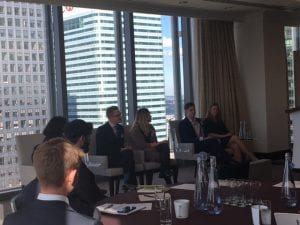 An invaluable session followed – the opportunity to hear from a panel of JP Morgan AccessAbility employees about life at JP Morgan, making the most of opportunities and experiences of disability and transitioning from academia to the world of work. This session included hearing from one of EmployAbility's candidates who interned with JP Morgan this summer and was offered a place on their HR graduate programme. Matt Williams spoke very positively about his experience of EmployAbility, the support he received and the fantastic experience he'd had with JP Morgan. A networking break after enabled attendees to mix and talk to representatives from across all divisions of the bank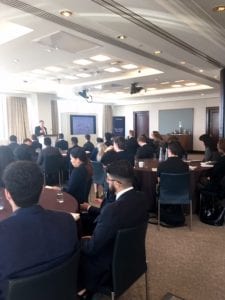 Tab Ahmad from EmployAbility delivered the next session, Disability Dialogue – why, when and how to disclose your disability. A common worry for many candidates, this session included advice on how to manage extenuating circumstances, talking about the impact of disability with employers and asking for adjustments both during the recruitment process and once in employment. The event concluded with a thank you and close from both EmployAbility and JP Morgan. The event was a resounding success and EmployAbility is pleased to be receiving comments from attendees reflecting this:
J.P. Morgan Insight Day 2017 is the best career event I have attended so far. Thanks EmployAbility team for organising this amazing event where the presentation and interaction with the staff provided my great insight of J.P. Morgan and its culture. I would definitely like to attend more events like this.
About EmployAbility
EmployAbility was established in 2006 as the not-for-profit organisation dedicated to assisting students and graduates with all disabilities, including dyslexia or long term health conditions, into employment. We have a wide network of relationships with universities, other disability charities and many other key stakeholders, and are always looking to reach out to new candidates.
We run an ever-expanding range of programmes for large international and UK employers, including internships and graduate recruitment, as well as offering training, events and consultancy around disability awareness and inclusion. Our client list includes many leading blue-chip as well as public sector organisations, and we are proud of our success in matching talented students to these disability inclusive employers.
Whether you are a student or graduate with a disability, or an employer looking for highly talented candidates from diverse backgrounds, or a university representative wanting to widen your links on behalf of your disabled students – register with us today, or get in touch by calling +44 (0)7852 764 684. If you're interested in applying for an internship with JP Morgan via EmployAbility, please apply here.
About JP Morgan
J.P. Morgan has operated in Europe for nearly 200 years and has a sophisticated local market presence across Europe, the Middle East and Africa (EMEA). Within the region, J.P. Morgan has an unparalleled client base and leadership across the spectrum of financial services products. The regional head office in London is complemented by a strong regional footprint, with offices in all major financial centers.
Globally, through the JPMorgan Chase Foundation, we make philanthropic investments in cities where we have major operations, assisting those at a disadvantage by helping them build better lives for themselves, their families and their communities. Across EMEA, the firm focuses its investment and attention on three pillars: Economic Development, Financial Empowerment and Workforce Readiness.
J.P. Morgan is a global leader in financial services, offering solutions to the world's most important corporations, governments and institutions in more than 100 countries. The Firm and its Foundation give approximately US$200 million annually to nonprofit organizations around the world. We also lead volunteer service activities for employees in local communities by utilizing our many resources, including those that stem from access to capital, economies of scale, global reach and expertise.