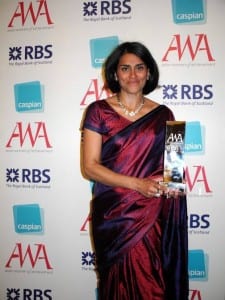 We are extremely proud to announce that EmployAbility's Founder and Managing Director Tab Ahmad has won the prestigious Asian Women of Achievement Award!
The Awards, held at the Hilton London on Park Lane on Wednesday 15th May, showcased some of the most inspirational women of this generation. Cherie Blair, Sarah Ferguson and HRH Princess Badiya bint El Hassan were amongst the distinguished guests.
Tab commented,
I am really honoured to have won the prestigious Asian Women of Achievement award.

I hope that it will encourage more employers to partner with EmployAbility to engage in the disability space and to properly review and open up their recruitment processes to ensure that these are barrier free, enabling them to attract and recruit talented disabled students/graduates and those with experience to their businesses.

Disabled people make up the fastest growing minority consumer market. Currently in the US, this is worth $220 billion and, in the UK £80 billion. It not only makes human sense, but it also makes business sense to value disability and diversity.
Shortlisted with five other extremely strong nominees, the Judges were impressed by Tab's dedication to and achievement in her pioneering work in the field of disability and employment, commenting,
Since she founded EmployAbility in 2006, Tab has been working with disabled students to help them make the jump from education to employment.

Her work really does change the lives of young people, and we were impressed not only by her passion, but her knowledge and entrepreneurial spirit.

Tab is not only helping students directly, but by educating employers she is changing the perception of disability in the UK.
Though we are extremely proud of all that we have achieved at EmployAbility, there is still much work to be done in supporting talented disabled students and graduates into employment, and encouraging and enabling employers to access this untapped talent pool.
We are excited to announce that EmployAbility will later this year launch its EmployExperiencedAbility Programme, to enable talented experienced professionals to benefit from our support, and are also working on a programme to help disabled school leavers plan their future careers! Our work continues…