Earlier this year we were delighted to be contacted by the BBC about taking part in series two of Employable Me.
The series aims to show how having a neurological condition – like autism or Tourette's –  or a physical disability doesn't make someone unemployable. That's something we champion here at EmployAbility. The series covers the journey to employment of eight candidates, all with a very different set of unique skills and challenges. Their disabilities range from cerebral palsy, visual impairment to aphasia, autism, Tourette's and physical impairments. The participants gained their disabilities in a variety of ways – some were born with them, some found them gradually worsening with age and some gained them through accidents and illness.
The participants received coaching and support from specialist experts – and that's where EmployAbility got involved. Tab Ahmad, our CEO worked closely with Alan Borgars, 27, who has high functioning autism.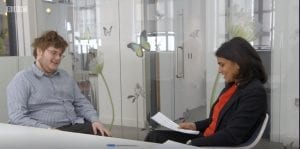 Alan had been unemployed for some time but with his passion for data and analytics, was an excellent candidate for roles that required attention to detail. However a big stumbling block for Alan was his confidence. When you've applied for over 150 vacancies unsuccessfully, it can be hard to maintain the motivation to keep looking for that ideal role. As he says himself,  it's difficult to apply when you don't have confidence and you don't know what you want to do. Nevertheless, Alan was determined to give it his "best shot" and Tab's words and advice were very encouraging for him.  Watch the programme to find out how Alan got on.
At EmployAbility we work with talented disabled university students and graduates to ease the transition from education into employment. If you are a student or graduate, the first step is to register with us. If you are an employer looking to become more disability inclusive and to access this untapped talent pool, please contact us to find out how we help.