EmployAbility was delighted to join with Accenture to present their Accenture's Women in Consulting Insight Day at their London office. The event was part of a series of insight days designed to promote their Consulting programme, which has start dates from January 2018 onwards. The exciting event was aimed at final year students and graduates interested in working with one of the most advanced technology consulting companies, to deliver innovative solutions for clients across a range of industries, globally. It provided an opportunity to hear from senior directors at Accenture and network with a panel of analysts and consultants as they talked about the dynamic projects they have worked on and provided insights on building a successful career at Accenture.
Welcoming the 25 attendees from all degree disciplines, the event kicked off with an introduction from Jenny Scott-Thompson, Manager at Accenture Consulting. This was followed by a panel session giving the students an opportunity to hear about life at Accenture and working with a disability. After a short break, the candidates took part in a case-study. This involved a simulation of an exercise that might be found at an Accenture assessment centre, providing the attendees with the opportunity to gain a deeper understanding of what these involve.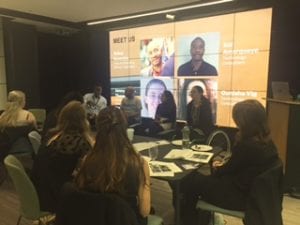 After a networking lunch – always a great opportunity for students to make contacts and gain further insight – the event continued with advice and tips on application and the recruitment process from Accenture HR staff. The day rounded off with a tour of the innovative hub. The event was valuable to all attendees and the feedback reflected that.
The event is really useful to gain some insight of the company and the grad scheme that Accenture has offered.

The insight day at Accenture was hugely beneficial as it provided me with first-hand experience of the culture of the company. Thank you to all the staff for their excellent presentations!
About EmployAbility
EmployAbility was established in 2006 as the not-for-profit organisation dedicated to assisting students and graduates with all disabilities, including dyslexia or long term health conditions, into employment. We have a wide network of relationships with universities, other disability charities and many other key stakeholders, and are always looking to reach out to new candidates. Whether you are a student or graduate with a neurodvierse condition or disability, or an employer looking for highly talented candidates from diverse backgrounds, or a university representative wanting to widen your links on behalf of your disabled students – register with us today, or get in touch by calling +44 (0)7852 764 684.
About Accenture
To transform your business, you need a partner—One who brings you new and innovative ideas every day. A partner with deep industry knowledge, meaningful insights and the broadest range of capabilities. A partner who works shoulder to shoulder with you to help you reach the next level of performance. With expertise in more than 40 industries and the best consulting talent in the world, Accenture Consulting is that partner. It's critical to start with a partner who understands the intersection of business and technology. For more than 60 years, our consultants have designed and implemented profound business transformations in partnership with the world's leading companies. Accenture Consulting delivers business outcomes at speed and with certainty, while helping you manage risk.